Schedule your virtual survey
and have your quote the next business day.
30
minutes
Simple & Fast
Survey
100%
virtual
Expertly Guided
24
hours
Guaranteed Quote Delivered
Get Started Now!
What is a Tailored Move?

Talented people.
We are a team comprised of experts in our field and are committed to giving you personal attention and superior service, all at a fair price.

Listening to you.
Since every move is unique, we listen to your individual needs and provide solutions that fit your specific situation.

Delivering the perfect move.
We feel fortunate to be trusted with your most important possessions and ensure a smooth, stress-free move so you can start enjoying your new home.
Every Tailored Move Includes
A Complimentary Move Quote Designed for Your Needs. No Hourly Fees. No Surprises.

A Personal Point of Contact & All Key Info Sent Directly to Your Phone.

A Professional Moving Crew Fully Trained on Moving & Packing Valuables.

Extensive Use of Protective Coverings for Your Home & Merchandise.
To learn more about why Tailored Move is different or to schedule a quote appointment, please
Contact Us
and a Customer Care Representative will be happy to assist you.
---
Tailored Move Services
A first move or the first move in 20 years?
It makes a difference.
Each of our customers has their own moving story. Our expert team listens to you and creates the Tailored Move to fit your needs perfectly. Customizing your move ensures you aren't overpaying or being left with extra work.
We have you covered.
Local, long distance and international.
We specialize in moving and storage services. Plus we provide additional services to help facilitate other aspects of your move. Whatever your needs are, we deliver.
 Bigger Space?

 Retirement?

 Relocating?

 Downsizing?
Before, During & After The Move
Moving is a journey that starts even before the first box is loaded onto the truck. We have the services you need to support you every step of the way. Which services are right for you?

During Move
Moving of Specialty Items
Before Move
What to consider before you move
Properly preparing your home for a sale has a real impact on how quickly your home sells and at what price.
Services like decluttering can make your home look its best when being shown to potential buyers.
To make the move as easy as possible, consider packing services as well. We can pack some or all of your belongings so that you can focus on other aspects of your move.
During Move
Moving of Specialty Items
What to consider as you move
Many circumstances such as having a new home constructed, having remodeling done or simply downsizing may necessitate temporary storage.
We thoroughly inventory, and then securely store, your items at our state-of-the-art facility until you are ready to receive them.
During your move some items such as sculptures, audio-visual equipment or pianos may require special attention. We can ensure these items are transferred carefully to your new location.
After Move
What to consider after your move
Finalizing your move and settling into a new home is a momentous event! Having a new space that is thoroughly cleaned and thoughtfully arranged has a huge impact.
If you chose to have us unpack your items, we will arrange items in the proper room and can assist with furniture reassembly and layout as well.
Consider The Benefits Of One Company Managing All Your Moving Needs.
Our customers tell us that moving is one of the most stressful times of their lives. Get the peace of mind knowing Tailored Move will coordinate and manage every aspect of your move.
---
About Us
Our people make all the difference.
In a service business, it's all about the people – the type of people who love delivering great customer experiences. We realize that to deliver a "Tailored Move" we need to hire the best talent and partner with experts.
Our staff loves the challenge of managing every move from beginning to end and getting rave reviews from our customers.
We have the shared goal of making every customer happy in their new home. Making someone's day is a part of what motivates each and every member of our team from our Customer Care Representatives, to our Surveyors to our Crew Members.
Customer Care Spotlight
Emily & Monique
Our goal is to let clients know that we are here to support them from the beginning to the end of a move! The best way to make sure a move goes smoothly is to have great communication right from the start. We help our team understand our client's needs which helps us when we seek feedback after the move to ensure we exceed expectations. We know we are different than a lot of companies because our clients have access to us - people who care about each and every move.
When not supporting Tailored Move, Emily loves to travel and spend time with her daughter while Monique loves to bake with her son and daughter and take them to the park.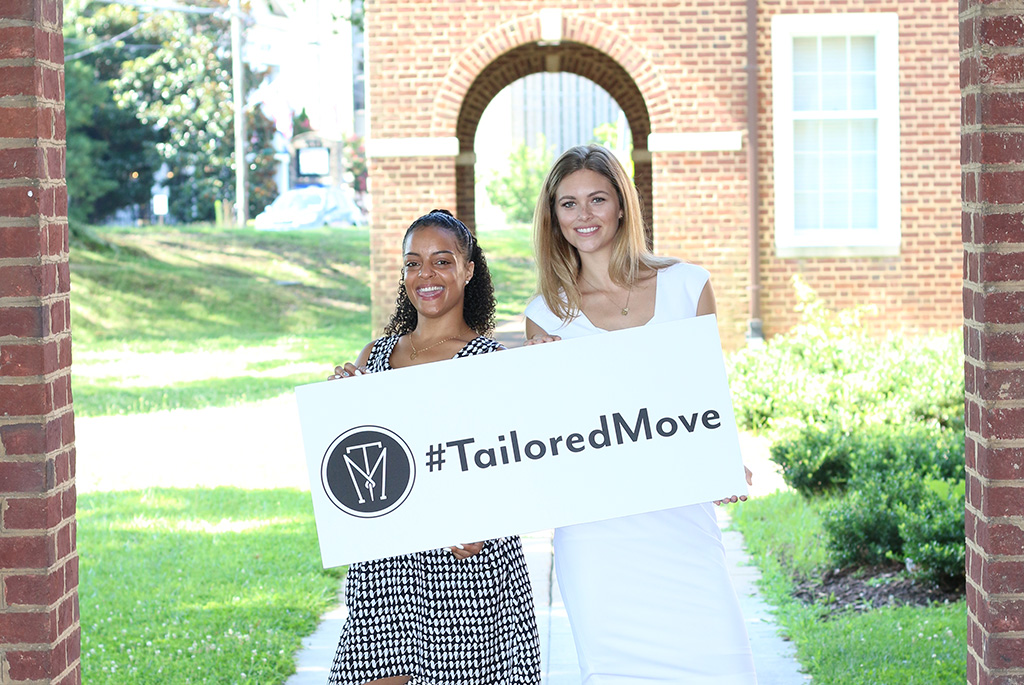 Resources
There's a lot to know about packing, moving and everything in between.
And, we want to share our best resources with you. These helpful articles are a great place to start. Knowing what to expect can lower stress and make your move as efficient as possible. If we're fortunate to earn your business, we'll provide you with specific resources based on your moving needs.